Best CMA Foundation Coaching Classes in India
Gyan Sagar Classes: Best CMA Foundation Coaching in India
Want to crack CMA on your first attempt? Challenging but possible with the guidance of the best CMA Foundation Coaching in Rajasthan, Gyan Sagar Classes! If you're looking to get the best grade possible, you've come to the right place. Our classes are designed specifically for students who want to get a top rank.
Gyan Sagar Classes, an Institute of Cost and Management Accountants of India, is all about helping you reach your potential. We provide personalized guidance based on your performance so that you can get the best results possible. Results are more important than just being in the classroom, so we focus on providing the best possible outcomes for our students. With our personalized guidance, you will surely get the desired results!
At Gyan Sagar Classes,  we want to help you achieve your dreams of becoming a CMA. We'll provide the resources and support you need to make your dream a reality. We know that the road to becoming a CMA can be challenging, but we'll be with you every step of the way. Join us on this journey, and let's achieve great things together!
What is CMA Foundation and who can appear for the exam?
The CMA Foundation exam is the first test in the Certified Management Accountant course, and it's offered twice a year. You can take it in either June or December. The Institute of Cost Accountants of India conducts the national-level CMA Foundation exam, and you can take it from your home. All you need is a computer and a strong internet connection.
To be eligible to take the exam, you must have passed Class 10 or equivalent from a recognized Board or Institution.
Who can apply for CMA Foundation at GSC?
You might be wondering, who can apply for Gyan Sagar's CMA Foundation Coaching classes? Well, we're glad you asked!
10th class passed candidates (under provisional registration), and 12th board exam-appearing students (under provisional registration) are both eligible.
If you're a 12th-passed candidate, you're also in luck!
Purpose of CMA Foundation at Gyan Sagar Classes
Gyan Sagar classes' CMA Foundation, as Administrated by ICMAI, course aims to help students develop a strong understanding of the subject matter according to the ICMAI Pattern.
The objective of Gyan Sagar classes' CMA Foundation course is to help students
understand the subject matter,
complete the updated syllabus on time,
and identify areas where they may be lacking.
By appearing in the mock test, students can improve their scores by 20 points per subject.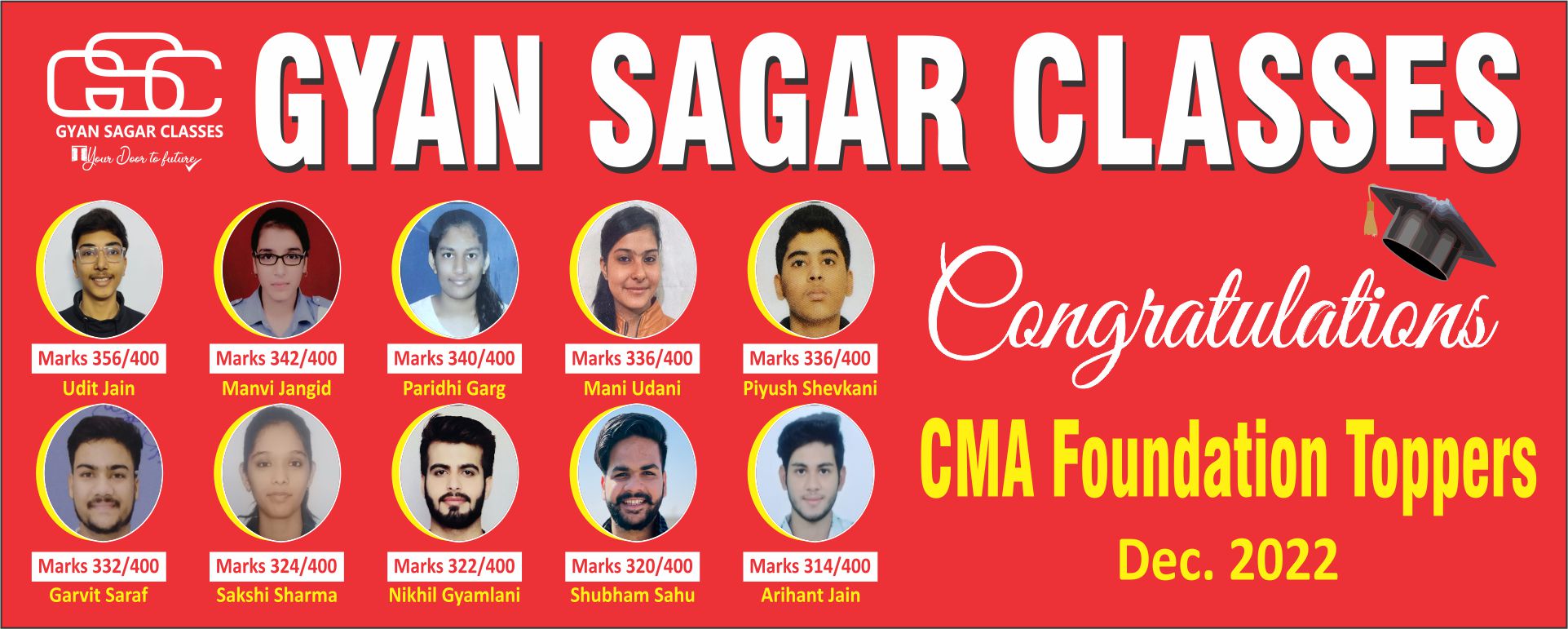 Details of CMA Foundation Coaching
Here are some details that you need to know about our CMA Foundation Course:
Course Name
CMA Foundation Course
Duration
4 to 6 months
Mode of Classes
Offline and Online
Mock Tests
Yes
Course Material
Hindi & English Module as per the medium of students provided by GSC
Offline Classes at
Gopalpura, Tonk Road, Jaipur – 302015
Coaching Fees
Rs. 20,000
Syllabus that the course will cover

Our CMA  foundation classes will cover the whole syllabus as prescribed by ICMAI:

Paper Ist: Fundamentals of Economics and Management (FEM)

Paper IInd: Fundamentals of Accounting (FOA)

Paper IIIrd: Fundamentals of Laws and Ethics (FLE)

Paper IVth: Fundamentals of Business Mathematics and Statistics (FBMS)
Study Pattern For CMA Foundation at GSC
Gyan Sagar Classes is the perfect place to prepare for your CMA foundation exam. Our classes are four months long, and we have a schedule that will help you cover the entire course of the CMA foundation in advance and get some extra time to revise the syllabus and solve mock tests. We complete the course on time:
We conduct CMA Foundation Classes Face to face and also offer Video Classes
We conduct Mock Test Papers
We also offer Personalized Guidance
How to Join GSC CMA Foundation Coaching?
If you're interested in joining our online or face-to-face classes, there are two ways to apply:
Visit our Jaipur center with your photo and ICAI/ICMA registration letter (if you have one). Fill out the form and pay the registration or full fee by cash or cheque.
Apply online by filling out the form and paying the registration or full fee by credit card. And you are good to go!
Best CMA Foundation Online Classes
At Gyan Sagar Classes, we understand that not everyone can come to our institute in person. That's why we've developed our best CMA foundation, online classes! These classes are designed to give students the same great learning experience but with a more user-friendly interface that will help them save time. You can:
Download a free pdf of the Mock test paper,
MCQ tests,
Online question paper
Test series
Face to face as well as Digital classes
Free demo sessions at regular intervals
Our classes are always up-to-date, following the latest 2022 syllabus.
After registering for the CMA Foundation online classes, you'll receive the login id and password to access your dashboard. You'll receive your study modules soon after registration. The classes will be conducted on the specified schedule. Our live and interactive classes will take place on our platform so that you can have the best studying experience possible.
CMA Foundation Coaching Fees
| | |
| --- | --- |
| Course/ Group | Total Fees |
| CMA Foundation | Rs. 20000/- |
| Bank Details |   |
| UPI Payment Details |   |
Why Choose GSC for CMA Foundation Coaching in India?
If you're looking for the best CMA Foundation coaching, look no further than Gyan Sagar Classes. Here's why:
We offer comprehensive mock tests that cover all the topics in the CMA Foundation syllabus.
Our faculty is highly qualified and experienced in teaching the CMA Foundation course.
We provide personalized guidance to every student so that they can focus on their weak areas and improve their understanding of the concepts.
Our classes are small and intimate so that each student gets the attention they deserve.
Our course material is regularly updated to ensure that it is in line with the latest CMA Foundation syllabus.
Gyan Sagar Classes is the right choice if you're looking to pass the CMA Foundation exam. We'll help you every step of the way to reach your destination and get you where you need to be – trust us!
FAQs About CMA Foundation Coaching Classes