Best CMA Coaching Classes in Jaipur, Rajasthan
Gyan Sagar Classes: Best CMA Coaching Classes in Jaipur, Rajasthan
CMA is one of the most valuable and useful accounting programs in business and finance. In the field of commerce, the Cost Management Accounting program is one of the best courses for those looking to make a career in management accounting from the Best CMA Coaching Classes in Jaipur- Gyan sagar classes.
The degree signifies the individual's expertise in areas such as financial planning, analysis, controls, decision support, and ethics. CMA is a globally recognized degree. In today's globalized economy, organizations need experts like Cost Accountants (CMAs) who have specialized knowledge of business strategy and value creation.
The course consists of 20 topics/subjects. There are three levels of study. The CMA course is divided into three different levels: 
To become a certified Cost Management Accounting specialist, students must complete all three levels. In most cases, the course lasts between 3 and 4 years, depending on various factors, including the capacity to learn, interest, dedication, and hard work.
In India, one can sit for various competitive exams after securing a UG degree such as a diploma in accounting management. This will enable them to apply for jobs in the government sector, banks, railways, core sector companies, hospitals, insurance sectors, and so on.
For CMAs students specializing in finance and accounting management, the opportunity for them is wider. Students can get lucrative jobs in both the public and private sectors. You can either take a competitive exam first or apply directly for a job on campus.
Studying cost management accountant helps you to obtain jobs in various cities in India. Also you can get the opportunity to obtain jobs abroad. CMAs have excellent career prospects with more job opportunities in multinational corporations. A student can have a bright future in careers like accounting firm partner, audit manager, and equity analyst.
With a postgraduate degree in management accounting and a banking entrance examination, a career in top banks and financial institutions is possible in India. Those with accounting management degrees may find employment overseas with investment banks, high street banks, and management consulting firms.
They can establish themselves as entrepreneurs later in their careers once they have gained sufficient experience.
The subject covered in levels is as follows:
Cost Management Accounting Foundation
Paper 1: Fundamentals Of Business Laws And Business Communication (FBLC)
Paper 2: Fundamentals Of Financial And Cost Accounting (FSCA)
Paper 3: Fundamentals Of Business Mathematics And Statistics (FBMS)
Paper 4: Fundamentals Of Business Economics And Management (FBEM)
Cost Management Accounting Intermediate
Paper 5: Business Laws And Ethics (BLE)
Paper 6: Financial Accounting (FA)
Paper 7: Direct And Indirect Taxation (DITX)
Paper 8: Cost Accounting (CA)
Paper 9: Operations Management And Strategic Management (OMSM)
Paper 10: Corporate Accounting And Auditing (CAA)
Paper 11: Financial Management And Business Data Analytics (FMDA)
Paper 12: Management Accounting (MA)
Cost Management Accounting Final
Paper 13: Corporate And Economic Laws (CEL)
Paper 14: Strategic Financial Management(SFM)
Paper 15: Direct Tax Laws And International Taxation (DIT)
Paper 16: Strategic Cost Management (SCM)
Paper 17: Cost And Management Audit (CMAD)
Paper 18: Corporate Financial Reporting (CFR)
Paper 19: Indirect Tax Laws And Practice (ITLP) 

Electives

Paper 20a: Strategic Performance Management And Business Valuation (SPMBV)
Paper 20b: Risk Management In Banking And Insurance (RMBI)
Paper 20c: Entrepreneurship And Startup (ENTS)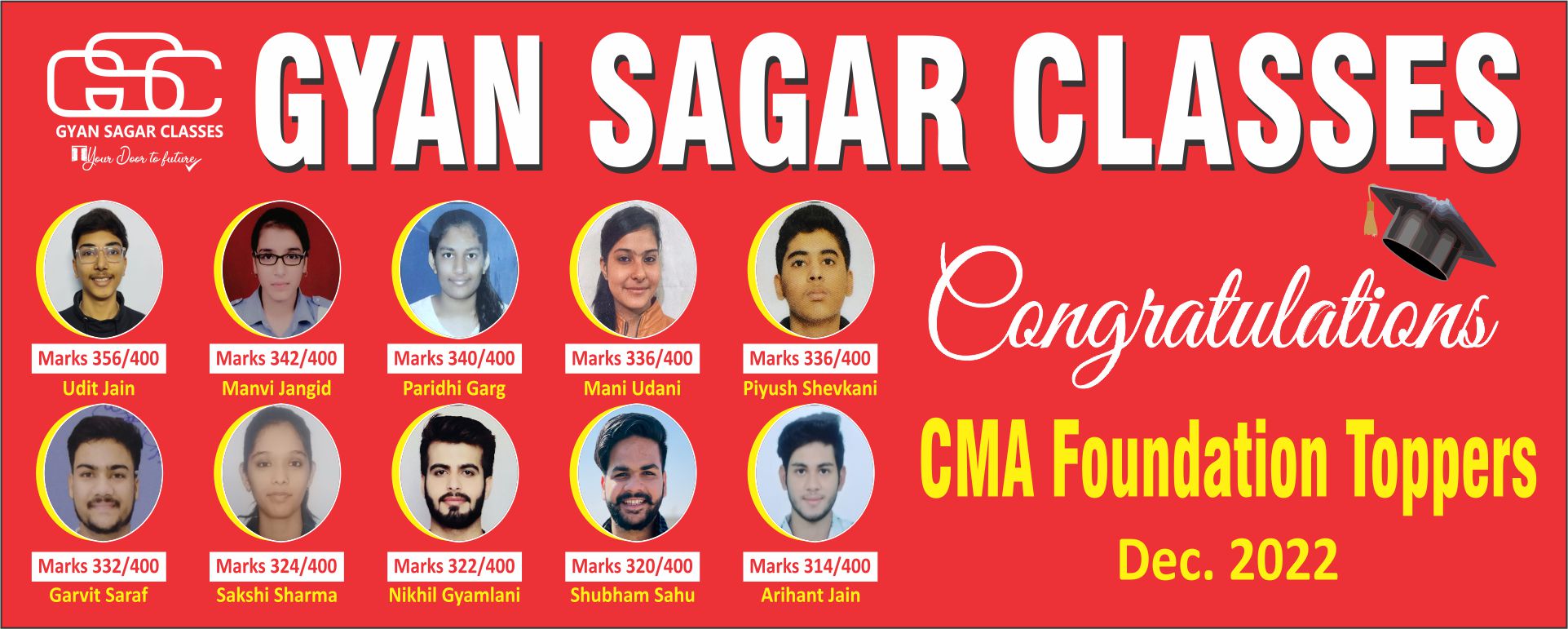 Here are some details that you need to know about our CMA Course:
| | |
| --- | --- |
| Course Name | CMA Course |
| Duration | 16 to 22 months |
| Mode of Classes | Offline and Online |
| Mock Tests | Yes |
| Course Material | Hindi & English Module as per the medium of students provided by GSC |
| Offline Classes at | Gopalpura, Tonk Road, Jaipur – 302015 |
| Coaching Fees | Rs. 20,000- 25,000 |
Best CMA Coaching in Jaipur, India - Gyan Sagar Classes
Upon completing the CMA Intermediate course, students will have strong foundations in Financial Reporting, Regulatory Frameworks, Management, and Strategy.
Taking the cost management exam is among the most competitive exams anywhere in the world, because it is assessed according to the international standard. The global pass rate for the CMA exam is only 43%.
Gyan Sagar helps their students acquire the six skills required by CMA: knowledge, comprehension, application, analysis, synthesis, and evaluation. To crack the exam we will help you to learn and acknowledge all the required things in a very short period of time.
With a proven track record of success, our teaching techniques have been proven effective. The reason for the great success of this institute is the expertise of the faculty members. Our team of Gyan sagar classes welcomes all the students who have the courage to achieve something in their lives.
At our best CMA classes in Jaipur, Rajasthan, India we prioritise comprehensive analysis and a thorough understanding of all subjects for CMA, CS, CA, etc.
The curriculum of the institute is designed in such a way that can enhance the skills of the students. We believe that personal development of the students is equally important, so our team of gyan sagar classes will help the students to do better so that they get the effective results. We gave the directions to the students and also encouraged them to do practice.
Why Join GSC for CMA & How is it Best CMA Coaching Classes in Jaipur, Rajasthan
Gyan sagar classes is the best coaching classes in Jaipur, as you can see by joining the classes and taking demo classes.
The features that Gyan Sagar Classes offers:
Gyan sagar classes is the best coaching classes in Jaipur, India, as you can see by joining the classes and taking demo classes.
The features that Gyan Sagar Classes offers:
Regular Mock tests
Experienced teachers
100% focused on their goals
Disciplined classes
Quality learning and understanding
Successful result
Special doubt classes
Join Now Gyan Sagar Classes who is Best CMA Coaching Institute in Jaipur.